Medical massage is a combined application of Traditional Chinese Medicine (TCM) theories, diagnosis, and anatomy with massage.
Its use is determined by the needs of the client.  Dr. Ling applies it in one of four forms: Tui-Na, sliding cupping, electro-massage, or acupressure.
Tui-Na (pronounced "tway-na") is a specialized field within TCM that uses different hand, finger, elbow and forearm massage techniques for different conditions, and applies joint-muscle manipulations and simple traction techniques to re-align bone and soft tissue.  Acupressure is a specific method she applies within the field of Tui-Na.
For adults, medical massage is applied as an adjunct therapy to acupuncture or cupping, particularly for those clients who are very elderly and weak, have car accident injuries, whiplash, and ultra-sensitive pain receptors.  For example, Dr. Ling often applies sliding cupping first before beginning other modalities for clients who carry significant tension in their muscles, or are very nervous individuals.
Pediatric Massage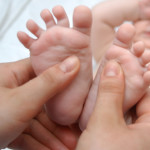 When babies and young children fall sick, pediatric Tui-Na, also called Chinese pediatric medical massage, has specific massage techniques for different ailments.

Pediatric Tui-Na is a safe, effective treatment option for babies and children under 7 years.  In Chinese medicine, we understand that babies and toddlers are yang in nature, meaning that they grow and learn fast; get sick quickly, but with fast resolution of their illness; and tend to have more hot, feverish illnesses.
Thus, they have the ability to heal much faster than adults and generally have rapidly shifting symptoms, however intense they may be in the moment.  Because their energy systems are very sensitive and yang in nature, Tui-Na for them is like acupuncture without the needles.  Tui- Na influences a child's energetic flow in the same way as acupuncture, but uses gentle massage to activate the various points instead of needles.
When children are sick, there is disorder in their Qi (vital energy, pronounced "chee").  The Qi flows superficially at this age, and is easily accessed on the skin, which is why massage is one of the best treatment methods to use for babies and young children.  It is gentle and tolerable.
Tui-Na can be given to babies and children with various conditions – colic, common colds, earaches, vomiting, diarrhea, constipation, fever, indigestion, eczema, poor sleep, allergies, asthma.  It is also excellent to give them regularly for general growth, bone and brain development, and immune strengthening.
For benefits to be noticeable, Tui-Na is recommended to give a few minutes 3-5 times a day.  After the treatment, parents will be instructed on specific massage techniques to use at home to help their baby or child restore or continue healthy balance.
This frequent therapeutic touch of loving family members benefits children's health enormously.  And in infancy especially, Tui-Na is excellent to not only help the baby grow healthfully, but to also further strengthen bonds between parents and baby.